Description
From three little lessons to junior world championships
I fell into this amazing sport by accident when I was 12. I had entered a multi-sport race which was kayak-bike-run and I had never kayaked before, so Mum rang up the local club and asked if I could just do three lessons. I loved it, and asked if I could carry on. One of the coaches suggested I try canoe slalom – I had no idea what that was! He explained it was an Olympic sport on whitewater where you weave in and out of poles suspended above the water. Gradually he took me from flat-water to slowly-moving water and onto the rapids… and the rest, as they say, is history.
Fast-forward to today: I'm now 17 and heading to the 2016 Junior World Canoe Slalom Championships in Krakow, Poland. I'm just finished my best ever New Zealand season – and I'm so excited about the opportunity to compete on the world stage.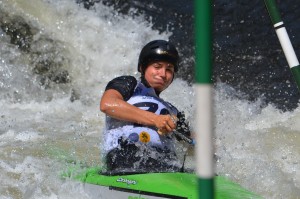 The hard work
I train 2 or 3 times a day, six days a week – not just flat-water and whitewater sessions but also strength-training, a stretch class, and running up the Mount in Mt Maunganui, where I live with my Mum. I definitely don't enjoy every session, but I absolutely love the sport itself. I love being on the whitewater and the constant challenge of it. Last year I switched to doing school by correspondence in order to balance school and sport better. To be honest it is hard doing schooling by myself, I miss seeing my school friends every day, but I don't miss falling behind in my work because of being away. It worked well last year and I passed level 1NCEA with Excellence.
Something that even a lot of the people in the kayaking community don't know is that most days I have to push through physical pain in order to train or study: I've had headaches almost every day for more than 18 months. We've seen everyone from physios to a neurologist, with no results so far, but while I'm hanging out to find a solution, I refuse to let it stop me in the meantime! There are a lot of sacrifices with doing sport at this level and it wouldn't be worth it if I didn't love it…but I do.
The cost
I will be spending six weeks in Europe in the lead-up to the junior world championships in order to get used to my first ever new boat – and to get more training and racing experience. We expect the trip to cost $9000, plus $3100 for the boat and a paddle. So that's $12,100. Everyone in my family is very supportive financially and practically – Dad took me to Nationals in the South Island this year, which was really neat – but the costs are significant for any family.
We've been working hard raising money for my sport: things like a monster garage sale, selling feijoas, and wheeling and dealing on trademe – and even my grandma has helped by making endless jars of chutney to sell. I have also applied for a grant from the Bay Trust. BUT as you can see, we need a tonne of help.
I would so appreciate it if you would consider making a donation. Every little bit counts. I fly out at the end of May, so time is running out! All donations on this crowd-funding platform are tax-deductible so you'll get a receipt and can claim back on it – and when isport passes the final donated sum to us, it will go into an account specifically set up for donations towards my kayaking costs, overseen by local Tauranga accountant Bernice Grant.
Thank you so much for taking the time to read about me – and I am so grateful for your support!
"A DREAM DOESN'T BECOME REALITY THROUGH MAGIC. IT TAKES SWEAT, DETERMINATION AND HARD WORK" – COLIN POWELL 
SPORTING GOALS
I'm aiming to make the semi-finals at the junior world championships this year – and the finals next year!  I'd eventually like to be selected for the New Zealand senior team and to continue to represent my country internationally.  Closer to home, I'm working hard on technique and speed,  increasing my cardio fitness, and also making sure I have 100% correct form in the gym. I am hypermobile, which means I am extra 'bendy' – which is great if you are a gymnast but not for a kayaker – so I have to build and maintain a lot of muscle strength to keep my shoulders stable.  
SPORTING ACHIEVEMENTS
In 2016, I won the silver medal for under-18 K1 women at the Australian Open and the bronze at the Oceania Championships. At both events I was  the only New Zealand paddler to make the podium – and at the Oceania Championships I was the top under-18W paddler for the Oceania region.  I won both K1 and C1 disciplines for my age group at the New Zealand secondary school competition, and both titles again at the NZ Nationals.  I was  selected for the NZ junior canoe slalom team in both 2015 and 2016; this year I was the only under-18  woman paddler to be selected in both K1 and C1.